The world is more focused on our planet and the environment than ever. Sustainability is now something everyone knows about, with global governments making efforts to ensure they're doing their bit in the fight against climate change. A new study by Uswitch reveals which cities around the world are the most sustainable.
The study analysed cities based on several factors which contributed to them being the most sustainable:
Energy
Transportation infrastructure
Affordability
Pollution
Air quality
CO2 emissions
Percentage of green space available
What makes these cities sustainable?
Less pollution
No level of pollution is safe, but studies reveal that air pollution is deadly and can lower life expectancy by 3 years. Wellington and Stockholm are some of the least polluted cities on the index, these cities have good air quality and are paving the way for a more sustainable future.
Sustainable energy
Sustainable energy has experienced a big push in recent years, as governments across the world look to cut down their carbon emissions. Despite being one of our least sustainable cities, Nairobi's energy is 90.6% environmentally friendly, coming from hydroelectricity or geothermal energy.
Greenspace
It has been estimated that by 2050 68% of the population will live in cities, as they become more populated there is a rise in pollution levels. Cities such as Hong Kong, Singapore, Zurich and Vienna are some of the top cities with a percentage of green space available. Research reveals that having more green spaces in cities can lessen the effects of pollution can reduce the urban heat effect, which is generated by the city lifestyle causing temperatures to rise by up to 4 degrees.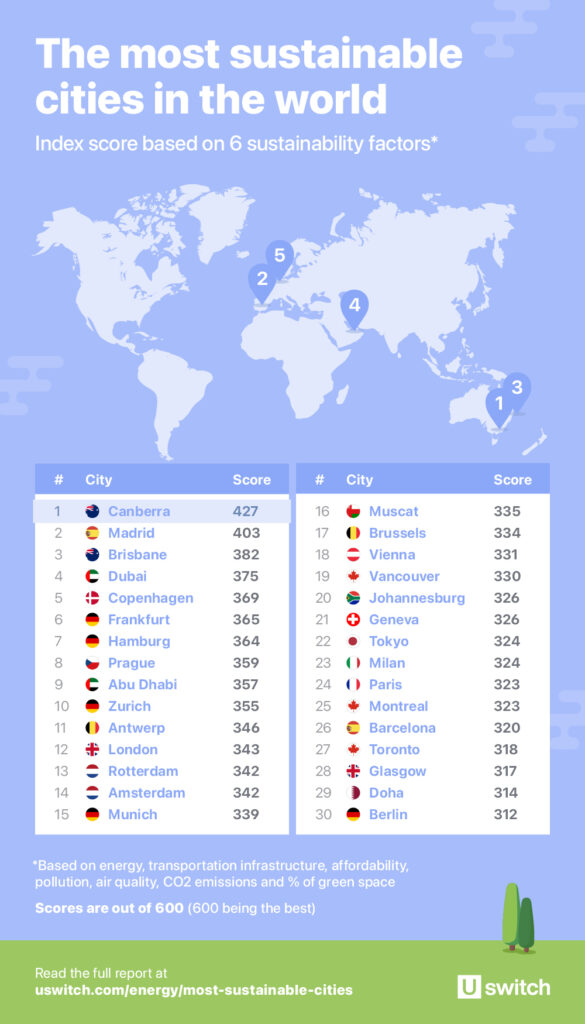 The capital of the land down under, Canberra, takes the top spot on our list. The capital has excellent public transport service, it offers 48% of its energy in sustainable ways while scoring one of the lowest scores (13.89) on the pollution index. Canberra relies heavily on solar power and nearby wind farms, ensuring that 94% of its residents have internet access to make this one connected city.
It's no surprise that another Aussie city makes our top 5 list with Brisbane coming in 3rd place. The River City scores low on their pollution rates (21.8%) and high for their transport infrastructure (75%).
Australia has often been seen as a leader in sustainable development as they recognise the role it plays in the wellbeing of their people and country.
Will Owen, energy expert at Uswitch.com, commented: "Around the world, we're becoming more aware of our environmental impact on the planet, and in recent years we've seen a clear increase in people actively trying to be more sustainable.
"However, where you live has a big impact on how easy it is to be green. Many cities around the world are committing to environmental change and making it easier for their residents to make greener choices in their lives.  Our study has highlighted which cities are leading the way with sustainability, and which need to do more to improve their environmental impact."