Whatever we do with the 60-hectare lot alongside Hong Kong Disneyland, we won't be building a second Disney theme park, following economic development secretary Edward Yau Tang-wah's decision to scrap the plan.Although this was presented as a bold decisive move, the option to buy the adjacent site was always dependent on certain business performance measures being met (attendance, etc). As they have not been, the option lapsed. So what the government actually decided was not to renew it with relaxed conditions.Also worth remembering is that the park and the right to buy the nearby lot are in fact owned by the joint venture company Hong Kong International Theme Parks Limited, whose majority shareholder is the Hong Kong government. So the development restrictions on the adjacent site, sometimes criticised as an unfair imposition by a foreign party, are to protect the government's investment in the park as much as anything else.There has been much public discussion about what to do with the land, including on an RTHK radio show last week. The boldest suggestion was to scrap the park altogether and use the site and surrounding area for housing. There is already an MTR link, so perhaps we could manage without the Lantau Tomorrow Vision, long attacked as being too expensive and environmentally damaging.
This idea may have some superficial attraction, but there is also a considerable downside. It would deprive thousands of Hong Kong families of the opportunity of a pleasurable day out, and reduce the city's attractiveness to international and mainland tourists.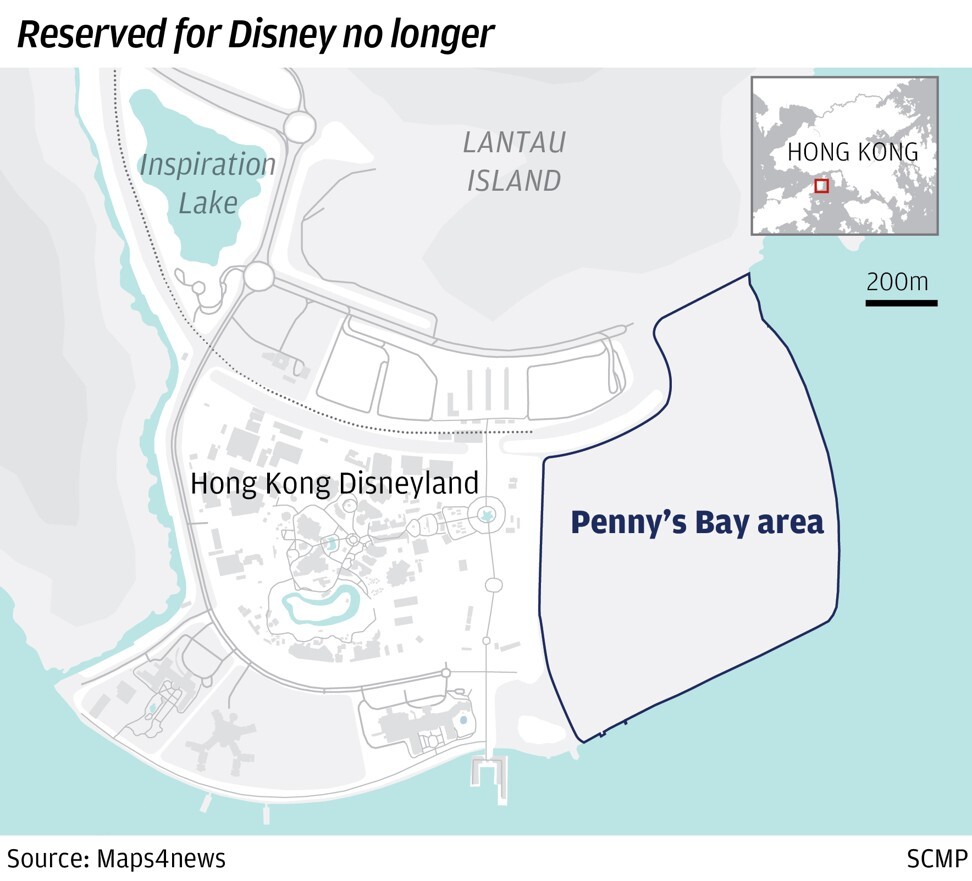 It would also send an unfortunate signal to the international business community about Hong Kong's openness to foreign investors and their prospects. If even one of the strongest entertainment companies in the world cannot make a go here, what hope is there for anyone else?
In local politics, you can never talk about one theme park without the other, so naturally Ocean Park came into the discussion. Its core activities are relatively low-rise so could we move that park alongside Disney to create an entertainment and tourist node?
DAILYOpinion NewsletterBy submitting, you consent to receiving marketing emails from SCMP. If you don't want these, tick hereBy registering, you agree to our T&C and Privacy PolicyThat could free up the Aberdeen site for other purposes. As previously noted, it could accommodate three residential developments the size of Tai Koo Shing, with space left over. That option would help address the housing shortage and in a location well served by the MTR.Ocean Park's history is interesting. A major water play area attached to it – I used to take my sons there nearly 40 years ago – closed a long time ago because it was unviable. For a while, the park flourished with predominantly mainland visitors, which tended to reduce its attractiveness to locals. Decades later, the big idea to rescue Ocean Park's business prospects is: construction of a big water park. Plus ça change. The recent multibillion-dollar bailout will only sustain the park until the middle of next year.
Back in 1999 when the Tourism Commission was formed, we reviewed our tourism "assets". The conclusion then was that Ocean Park was very popular with locals but not a major draw for tourists.
What distinguished Disney, and made that investment worth considering, was that its name alone would make us a first-choice family holiday destination and attract visitors from as far away as Australasia and India. Indeed, so it proved, as Hong Kong Disneyland set out to attract custom from within Hong Kong, the mainland, and internationally in roughly equal proportions.
Hong Kong Disneyland to reopen after closing for almost five months amid pandemic
Which brings us to now, with visitor numbers having collapsed because of the pandemic. When international trade and business recover in due course, air travel will also revive somewhat. But what will our strategy be for attracting other visitors in large numbers? Indeed, the first question is whether we even wish to revive the tourism industry.Assuming we do, what are our assets? There are lots of fabulous things to do in Hong Kong once you are here. Shopping and dining are still strong but no longer stand out. Star Ferry, Peak Tram, hiking in the country parks, Ocean Park, bits of old Hong Kong such as the Sun Yat Sen trail are still good.But when families around Asia plan an annual holiday, what makes us stand out, especially given the competition from world-class theme parks on Hengqin Island? Right now, it's basically Disney and, soon the Palace Museum and West Kowloon Cultural District.
Animals at Hong Kong's Ocean Park face uncertain future as pandemic keeps attraction closed
Animals at Hong Kong's Ocean Park face uncertain future as pandemic keeps attraction closed
Personally, I would like us to keep Ocean Park, if possible. But wherever it is, and with or without a water play area, I fear it is unlikely to be commercially viable so will need a recurrent subsidy. A case can be made for support from public funds in the same way taxpayers finance other facilities operated by the Leisure and Cultural Services Department.
But before we go down that road, we need a clear vision of what our economy should look like in the years ahead, and what place within that strategy should be occupied by the tourism sector. Resources are always limited, so what are our priorities?