People entering England from key holiday destinations including Spain, France, and parts of Greece and Portugal now have to quarantine.But people coming from Thailand to the whole of the UK – and Singapore to England, Scotland and Northern Ireland – will no longer have to self-isolate on arrival from 04:00 BST on Saturday.Where can you still travel to without self-isolating when you get back, and which countries are placing restrictions on UK travellers?
Which countries are now on the quarantine list?
Most people entering the UK from overseas have to quarantine unless the country is on the list of exempt "travel corridors".But many countries have lost their travel corridor and are back on the quarantine list, including:Europe:
Andorra
Austria
Belgium
Croatia
Czech Republic
France
Gibraltar (Wales – being removed from list at 04:00 BST on Saturday)
Greece (Scotland)
Greek islands Lesvos, Tinos, Serifos, Mykonos, Crete, Santorini and Zakynthos (Zante) (England Wales and Northern Ireland)
Netherlands
Malta
Monaco
Hungary
Luxembourg
Portugal (Scotland)
Mainland Portugal (England, Wales and Northern Ireland)
Slovenia (from 04:00 BST on Saturday)
Spain
Switzerland
Caribbean:
Aruba
The Bahamas
Guadeloupe (from 04:00 BST on Saturday)
Jamaica
Trinidad and Tobago
Turks and Caicos
Rest of the world:
How is the quarantine list decided?
The Joint Biosecurity Centre (JBC) – set up by the government to monitor coronavirus – works with the chief medical officers of each UK nation and advises on where should be on the list.The decision is usually made when 20 or more people out of every 100,000 in a country, or island, are infected over seven days, but other factors are also considered. These include:
the estimated proportion of the population that is currently infectious
trends in the number of cases and deaths
information on a country's testing capacity
how much the virus has spread, including clusters of cases and the level of transmission in the community
Why have regional travel corridors been introduced?
Countries can now share more robust and detailed breakdowns of their coronavirus rates.That's prompted the UK to introduce regional travel corridors, whereby quarantine measures can be introduced for a country's mainland, but not its islands – or vice versa, if only one has a high rate of coronavirus.The distinction is only made between islands and the mainland, as it is too difficult to distinguish between inland regions, and people could travel too easily between them.To this effect, travellers to England must quarantine if they return from seven of the Greek islands, or from mainland Portugal.
Why can the UK nations make different quarantine decisions?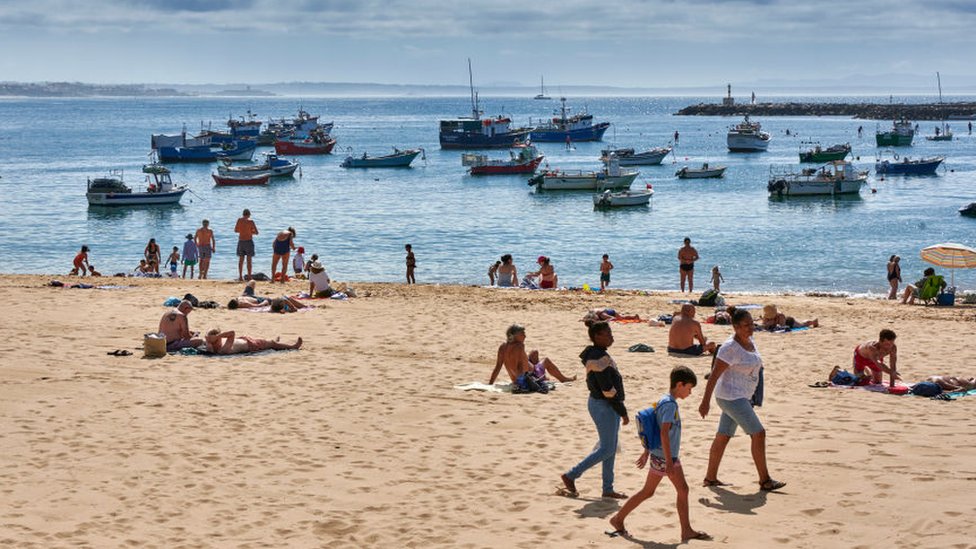 Health is a devolved policy, meaning each UK nation sets its own quarantine list. But until recently these have generally been identical.In early September, Scotland and Wales decided to apply quarantine measures to all, or parts, of Greece after a number of cases of the virus were traced back to travellers from there.They also both added Portugal to their quarantine list, after it breached the key threshold of 20 cases per 100,000 people.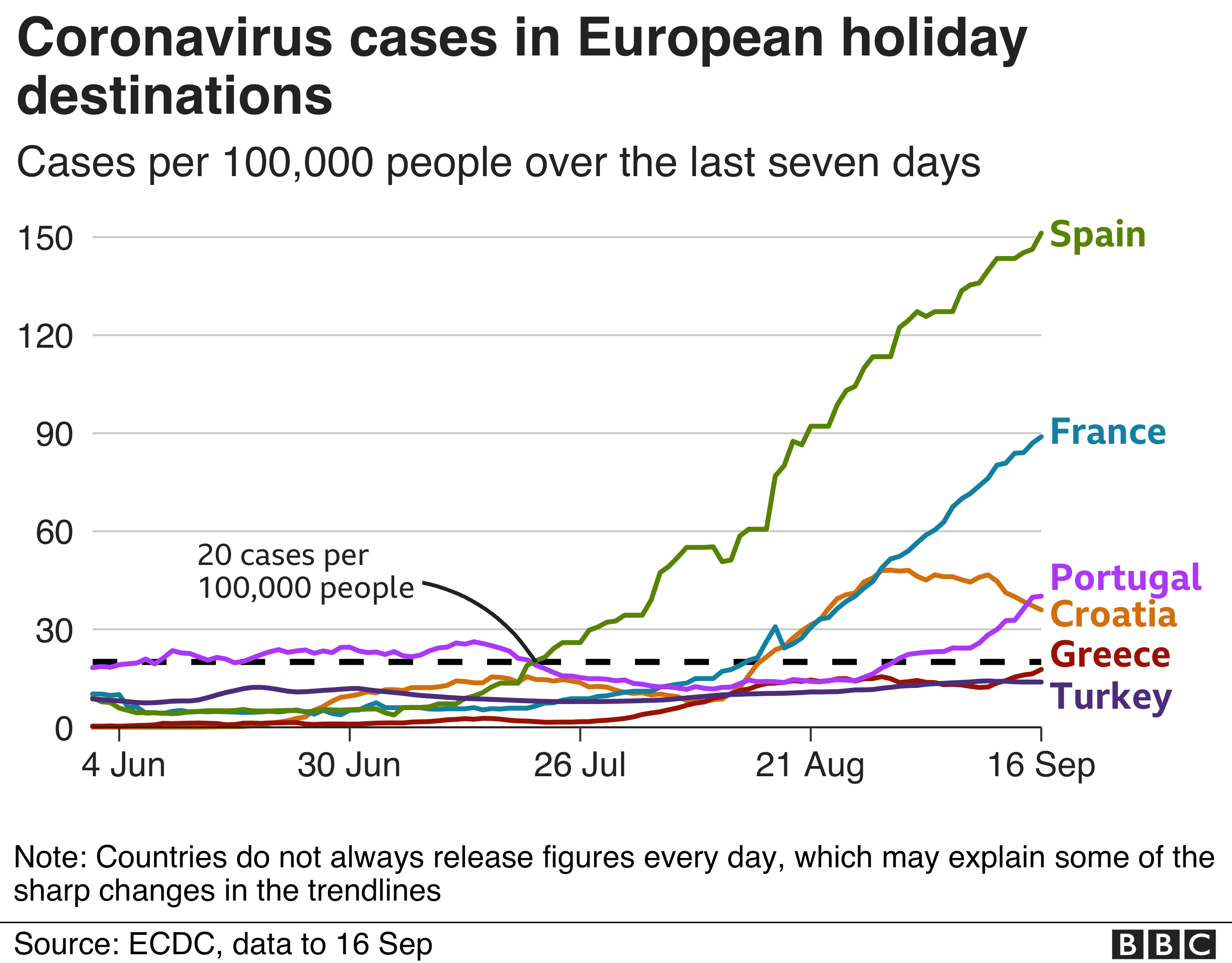 But England and Northern Ireland did not immediately apply quarantine restrictions to travellers from Greece and Portugal at that point.Although Portugal has breached the cases threshold, the transport minister at the time said the country been doing more testing, and the percentage of those testing positive had fallen from 1.8% to 1.6%."We don't want to exclude countries for doing the right thing and carrying out a lot of tests," he told the BBC.
Where can I go without quarantining when I get back?
Travellers from countries that pose a "reduced risk" from coronavirus – in the government's eyes – are exempt.The list for England includes:Antigua and Barbuda, Australia, Azores, Barbados, BES Islands, Cuba, Curaçao, Cyprus, Denmark, Dominica, Estonia, Faroe Islands, Fiji, Finland, Germany, Greece (except seven islands, from 9 September), Greenland, Grenada, Hong Kong, Iceland, Italy, Japan, Latvia, Liechtenstein, Lithuania, Macau, Madeira, Malaysia, Mauritius, New Caledonia, New Zealand, Norway, Poland, San Marino, Seychelles, South Korea, St Barthélemy, St Kitts and Nevis, St Lucia, St Pierre and Miquelon, Slovakia, St Vincent and the Grenadine, Sweden, Taiwan, Turkey, Vatican City, VietnamThere are separate exemption lists for Wales,Scotland and Northern Ireland.Those entering the UK from the common travel area – the Republic of Ireland, the Channel Islands, or the Isle of Man – are exempt, as are the 14 British Overseas Territories.
What if people don't quarantine?
Travellers not self-isolating when they are supposed to can be fined £1,000 in England, Wales and Northern Ireland, or £480 in Scotland.They can be fined up to £3,200 in England if they do not provide accurate contact details, or £1,920 in Wales.
What about restrictions at my destination?
The UK's coronavirus rate has risen to more than 30 cases per 100,000 people, taking it will above the 20 case threshold it often imposes on travellers from other countries.Travellers leaving the UK could still face restrictions – including quarantine – when they arrive in one of the exempted countries.For example, everyone entering Australia needs to quarantine for 14 days, and an exemption visa is required if you are not a resident or a citizen.