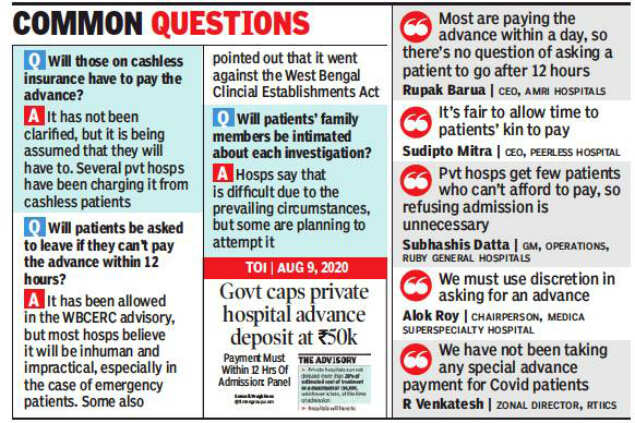 Most said they will stick to their existing practice of being flexible about advance deposits and will not eject any patient over non-payment. Some hospitals, however, were worried about the government direction of intimating patients' kin about investigations, pointing out it could be difficult in a scenario where family members are quarantined and doctors are being forced to take quick decisions.
Times View
This order tries to strike a balance between hospitals' and patients' interests. There have been complaints of hospitals asking for deposit amounts of more than Rs 3 lakh-Rs 4 lakh. Similarly, on the other side, hospitals have complained about problems in recovering dues from patients. The government will have to track this and may have to issue fresh guidelines, if necessary, after a thorough review.
AMRI Hospitals has been charging between Rs 20,000 and Rs 50,000 on admission depending on whether the patient has insurance cover. It plans to carry on with the practice without insisting on payment within 12 hours. "Most are paying within a day or two so there's no question of asking a patient to go after 12 hours. It could be difficult to calculate 25% of the estimated treatment cost though, so we will not ask for it," said CEO Rupak Barua.
Peerless Hospital has been settling for any amount on admission and plans to remain flexible. More than half of the Covid patients are being brought in severe condition and insisting on spot payment would be impractical, pointed out CEO Sudipto Mitra. "It's fair to allow a reasonable time to patients' kin for the payment. We will continue with it. It will not be legal to ask a patient to leave for failing to pay an advance since the West Bengal Clinical Establishments Act makes it mandatory to treat every patient," said Mitra.
He added that estimating 25% of treatment cost, too, was impractical since Covid patients' conditions can change during hospital stay, altering the estimated charges.
Non-payment has not been an issue at Ruby General Hospitals so far, said GM – operations Subhashis Datta. "There have been scores of elderly patients whose children paid from abroad at the time of discharge. Private hospitals get few patients who can't afford to pay, so refusing admission is unnecessary and unethical," said Datta.
He added that the government order should be seen as a direction to offer treatment to all rather than as a scope to turn away patients.
Medica Superspecialty Hospital, too, plans to stick to its practice of charging Rs 50,000 in advance, but will also wait and watch.
"The government order vindicates our decision to ask for an advance, though we must use our discretion on this," said chairperson Alok Roy.
The new advisory will help screen a patient's ability to pay for treatment, said RN Tagore International Institute of Cardiac Sciences (RTIICS) zonal director R Venkatesh. "Patients who cannot afford treatment as an out-of-pocket expense can be stabilized clinically and shifted to facilities where they can avail of free or subsidized treatment. We have not been taking any special advance payment for Covid patients," he said.
Another hospital official said it plans to ask patients to leave in case it appears that they may not be able to afford the bill. "It is now a government order, so why shouldn't we?" he asked.
While some, like AMRI, felt it will be difficult to consult patients' families before every investigation, others, like Medica, said they will give it a shot. "Since Covid treatment is evolving, investigations, too, are often unplanned. We are going by the consultants' opinions and they, too, are trying out new methods of treatment and investigation. It could be impractical to seek approval from the patients' families for every test," said Barua.