The Maldives has officially reopened its borders for tourism and started welcoming guests once again. The country, which is a popular travel destination across the globe, closed its borders in late March due to the COVID-19 pandemic.
While the country saw more than 2,800 cases, medical experts in the nation are confident to conclude that the country is now safe enough to reopen up. Cases in the country have seen a significant drop for authorities to declare the situation as fully and effectively under control.
However, not leaving anything up to chance, Maldivian authorities have put in place stringent measures to ensure the safety of both locals and travelers when the country reopens.
The first commercial international flight to the Maldives since the closure of borders, a Qatar Airways flight landed at 8:27 today, carrying more than 104 tourists.
So, what are the reasons to consider traveling to the Maldives and why is it safer? Also, what are the most important things to keep in mind when traveling to the Maldives?
No COVID-19 testing, 30-day on arrival visa
The Tourism Ministry of the Maldives unveiled the guideline to recommence safe tourism in the country.
The government assured that no travel restrictions will be imposed on any country as of right now. The government will also make arrangements upon any requests by a foreign government regarding travelers to and from that country.
For instance, upon the request of the Chinese government, the Maldivian government will be conducting testing for COVID-19 on Chinese nationals when they depart from the Maldives.
The Maldives will issue a 30-day on arrival visa for all tourists to the country. Tourists will, however, be required to have a booking made at a registered facility.
Tourists will also not be required to complete or undergo any quarantine procedures. They will not be required to provide a COVID-19 test result as well.
However, the procedure for tourists exhibiting symptoms of COVID-19 is slightly different. Travelers with symptoms of the virus will be required to undergo a PCR test as a safety measure. Tourists will be charged for the test. Thermal scanning is arranged at points of entry.
Authorities will also conduct random sampling at points of entry as a precaution for which tourists will not be required to make any payments.
Well trained staff, medical officers on site
The guideline states a mandatory training stipulated for resort staff regarding COVID-19.
Staff have undergone training sessions to familiarize themselves with Personal Protective Equipment (PPEs) as well as for social distancing measures.
An adequate supply of PPEs will also be available at resorts at all times. They include gloves, boots, face masks, and face shields.
Training for disinfection is provided to staff in addition to emergency response training. The guideline makes it mandatory for staffers to wear masks and maintain clean hand hygiene such as sanitizing when onboard transport vessels such as speedboats.
Arrangement for quarantine are also made at resorts for both staff and tourists, just in case someone tests positive.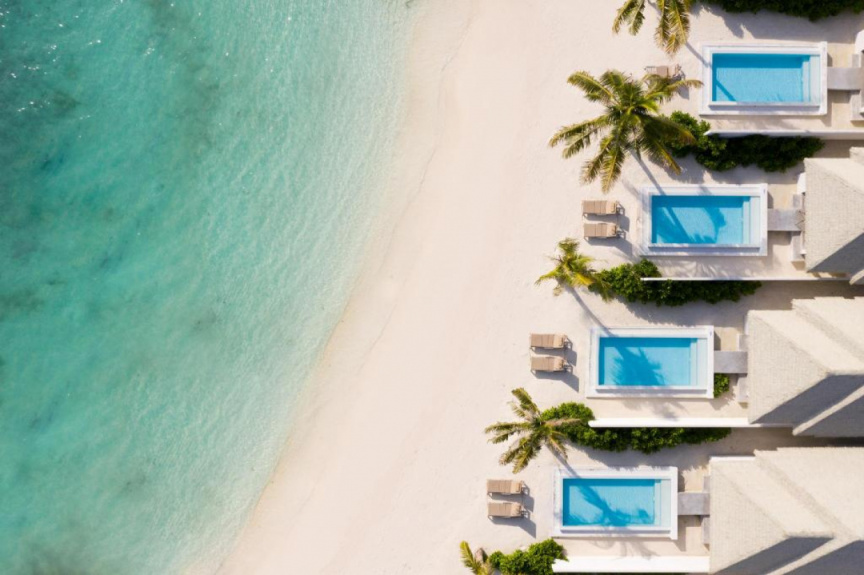 Every operating resort will have an HPA certified medical officer. In addition to this, a safety plan approved by the Ministry will also be in place in each resort alongside an appointed safety manager.
Staff who will be in direct contact with tourists will have separate accommodations to reduce the risk of infection.
More than 37 resorts will reopen in July
At least 37 resorts in the Maldives are to reopen in July with more to reopen in the coming months. They include world-class award-winning resorts such as Waldorf Astoria, Cocoon Maldives, Four Seasons Private Island Maldives at Voavah, Olhuveli Beach Resort and Spa, Soneva Jani and Paradise Island Resort.
For a more comprehensive list, click here.
For travelers to keep in mind
Travelers are also to adhere to strict safety standards onboard flights to the Maldives which airlines are expected to follow.
An online health declaration form must be filled out travelers that arrive to the nation 24-hours before their arrival.
Travelers are also advised to wear masks which is subject to exceptions such as health circumstances, children below the age of six, and during in-flight dining. Specific instructions by flight crew permitting the removal of the mask is also an exception.
Travelers are to inform the immigration authorities regarding any COVID-19 symptoms.
If the passenger is an outbound traveler, any health requirements issued by the country of travel must also be completed. Symptomatic individuals are also to inform the HPA before their departure.
Major discounts for international airlines
All international airlines operating to the Velana International Airport (VIA) are entitled to massive discounts.
They include discounts from ground handling, Navigation, and Parking charges.
Airlines operating to the airport from July 15 to August will receive a 100 percent discount. While airlines operating from September to October 27 will receive a 75 percent discount. Airlines operating from October 28 to March 26 will receive a 50 percent discount.
Several airlines have expressed interest in operating flights to the Maldives since late June.
They include:
Qatar Airways: One flight per day, starting from July 15.
Emirates: One flight per day, starting from July 16.
Etihad Airways: Two flights per week, starting from July 18.
Other airlines that will soon begin operations are:
Hong Kong Airlines: Two flights per week
Indigo: Two flights per day
Singapore Airlines: One flight per day
Silk Air: Two flights per day
Turkish Air: Two flights per every five weekdays.
Flights that will begin operations in August include Gulf Air, British Airways, Hong Kong Airlines, Silk Air, Indigo, Singapore Airlines, and Sri Lankan.