The airport ground handling company Swissport is planning to cut more than 4,500 jobs in the UK, as a trade body warned as many as 20,000 UK jobs could be lost in an industry reeling from the coronavirus pandemic.
Swissport, which handles services such as passenger baggage and cargo for airlines, on Wednesday began a consultation process that is expected to result in 4,556 workers being made redundant, more than half of its 8,500 UK workforce.
Swissport was already under pressure at the start of the crisis when the collapse of the regional airline Flybe put smaller UK airports at risk. However, the grounding of the vast majority of flights since the UK's lockdown began has all but wiped out revenues for many airlines and their suppliers.Advertisement
The Airport Operators Association (AOA), which represents more than 50 airports, said on Wednesday up to 20,000 jobs were at risk across UK airports because of persistently lower passenger numbers.
Some of Swissport's largest operations include services at London's Gatwick and Heathrow, Manchester, Newcastle, Edinburgh and Glasgow, alongside a host of regional airports.
The company declined to give details of where the job losses would fall. Swissport employed about 64,000 workers globally before the crisis.
In a memo to staff, Jason Holt, the chief executive of Swissport Western Europe, said the cuts were necessary to "secure the lifeline of funding from lenders and investors".
Swissport's UK revenues were down by 75% in May, Holt wrote. Swissport is experiencing "the most difficult times in our company's history", he added.
The latest redundancies will heighten pressure on the government to support the aviation and aerospace industries, with tens of thousands of job losses already under way. The airlines British Airways and Virgin Atlantic plan to cut 12,000 and 3,000 jobs respectively and the jet engine maker Rolls-Royce is making 9,000 people redundant because of slumping demand for new engines and the associated maintenance.
The government's coronavirus job retention scheme is understood to have paid the wages of 59,000 furloughed workers in the aviation industry but the planned end of the scheme at the end of October has prompted many companies to start making workers redundant, given that volumes in some industries are not expected to recover to 2019 levels for years.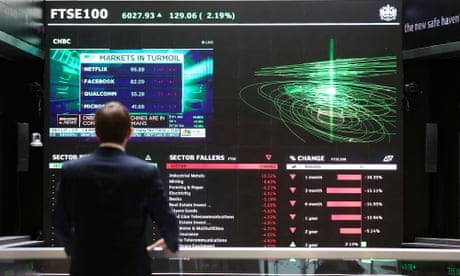 Read more
Before making the cuts, Swissport had directly lobbied the government for support for the sector alongside airlines and airports. Their focus has been on the removal of 14-day quarantine restrictions on UK arrivals, which provoked fury from aviation bosses who said it would cost jobs.
Karen Dee, the AOA's chief executive, said: "Commercial aviation in the UK has weathered the worst three months in its history, and is now presented with an arbitrary quarantine policy, which has unnecessarily stifled the sector's restart and recovery plans."
However, demands for bailouts for specific airlines have faced opposition because of concerns over the viability of some of the businesses who have asked for aid, as well as environmental campaigners' demands that emissions reductions be prioritised as well as job retention. The French government's €7bn (£6.3bn) bailout of Air France included specific conditions on halving carbon dioxide emissions per passenger.
The AOA said it thought the toll of job losses triggered by the downturn could be as high as 100,000 if indirectly supported jobs were considered.
Nadine Houghton, a national officer at the GMB, said Swissport's cuts were "devastating news" that would particularly hit regional economies.
"With Swissport now considering job cuts on this scale, we have deep concerns about the viability of many of our regional airports and the benefits for regional connectivity that they bring," she said.
Since you're here …
… we have a small favour to ask. You've read 5 articles in the last nine months. And you're not alone; millions are flocking to the Guardian for quality news every day. We believe everyone deserves access to factual information, and analysis that has authority and integrity. That's why, unlike many others, we made a choice: to keep Guardian reporting open for all, regardless of where they live or what they can afford to pay.
As an open, independent news organisation we investigate, interrogate and expose the actions of those in power, without fear. With no shareholders or billionaire owner, our journalism is free from political and commercial bias – this makes us different. We can give a voice to the oppressed and neglected, and stand in solidarity with those who are calling for a fairer future. With your help we can make a difference.
We're determined to provide journalism that helps each of us better understand the world, and take actions that challenge, unite, and inspire change – in times of crisis and beyond. Our work would not be possible without our readers, who now support our work from 180 countries around the world.
But news organisations are facing an existential threat. With advertising revenues plummeting, the Guardian risks losing a major source of its funding. More than ever before, we're reliant on financial support from readers to fill the gap. Your support keeps us independent, open, and means we can maintain our high quality reporting – investigating, disentangling and interrogating.