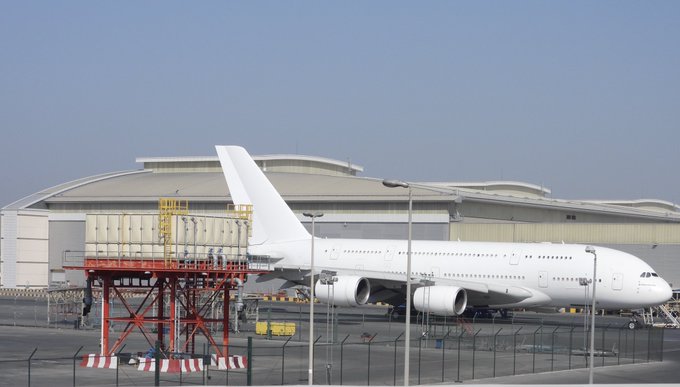 12 years with Emirates
The aircraft in question carries registration A6-EDB. This aircraft made its last scheduled flight from Muscat to Dubai (DXB) on February 23rd, before it flew to Dubai World Center on February 28th and back to Dubai on March 25th. It has been there ever since.Advertisement:
Featured Video:
Emirates Has Been Flying Airbus A380s 30 Miles For Storage
A6-EDB was delivered to Emirates in October 2008. This makes it amongst the first of the A380s to enter service with the airline. Thus, it is not surprising it is amongst the first to leave.
It is unclear what the future of this particular aircraft is. In reporting by FlightGlobal in 2019, Tim Clark, the President of Emirates, explained how aircraft would start to be retired from the fleet. These could potentially be used for spare parts for other aircraft or returned at the end of their leases.
Keeping its A380s in service
Despite the current slowdown in operations, Emirates remains committed to its A380 fleet. In a recent interview in the Financial Times, Tim Clark explained how the airline would stick with the A380, and how he expected the full feet back in the sky by 2022. He said,Advertisement:
"We're not getting rid of any [aircraft] apart from I think three [A380s] that are coming out and nine 777s that were scheduled to come out this year… [The A380 has a] place in the Emirates international network on the scale it has before. Albeit not today or fully next year, but the year after I think there will be a place for it and I think it is going to be extremely popular."
This A380 is likely to be the first of these three aircraft already planned for retirement, possibly coinciding with the need for heavy maintenance. There is no indication that it represents any increased plans for retirements. Indeed, Emirates is keeping the entire fleet active and ready to return to service, with each aircraft flying once a month.
Other airlines, however, are not so committed to the A380. Air France has already announced that it will retire its entire A380 fleet. And fellow Middle Eastern airlines are unsure. Qatar Airways' CEO has suggested that the A380 may not return (all ten aircraft are currently parked), and Etihad may also scrap its A380 fleet.