Nora Kalabokas is sitting on the pavement in front of Ter Marsch & Co restaurant on Amsterdam's normally busy Vijzelstraat thoroughfare. In front of her are dismembered mannequin parts—headless torsos, legs, arms. This 30-year-old artist, who was fired from her job as a cook shortly after the city's restaurants were forced to close in mid-March, is painting the cadavers a fluorescent pink in preparation for their new life as human stand-ins and social distancing reminders when Ter Marsch & Co reopens its doors June 1. 'The restaurant hired me to fill up its space with mannequins so that we can keep the 1.5-meter distance between guests and give a feeling of ambiance and that the place is a bit more full,' says Kalabokas. As the country's restaurants, cafes, pubs and bars get ready to reopen Monday at noon, they will be following strict government guidelines that include 1.5 meters distance between people (except those living together), a reservations-only system, questioning customers beforehand about any corona-related symptoms and a 30-person maximum indoor seating capacity.
Arrows
Most places will have arrows and lanes where people can move,' says Kalabokas. 'It's practical, but on the other hand, those symbols of arrows and lanes are a bit restricting…especially in a space that's beautiful and cosy.' With 36 playfully-painted mannequins ('How many?' asks one torso decorated with shot glasses) to 30 diners, the number of live and lifeless guests will be roughly equal. Ter Marsch & Co's creative approach to social distancing is being echoed throughout the country. Art centre and restaurant Mediamatic has gone viral with its individual greenhouses providing cosy and safe socially-distant-dining for groups of two to four on its waterside terrace. Having sold out for June and July, Mediamatic recently added six more greenhouses to its original five to accommodate demand.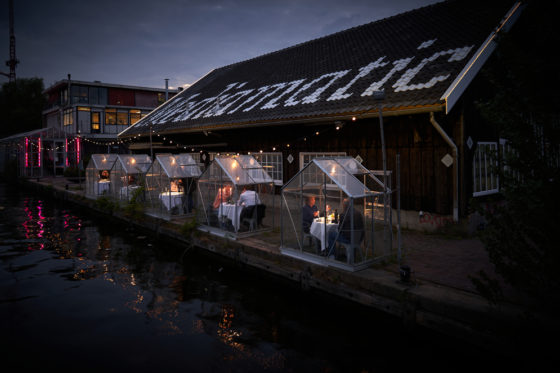 'For sure we were surprised by their success,' says Margot Holtman, Mediamatic's venue manager, who attributes the idea to a brainstorm. 'We already had the glass houses and used them for art projects. We thought about renting them to people to have drinks at home, but then realized we could have people come here.
' Bikes
But many Dutch establishments haven't waited for reopening day to get creative. Restaurant-Café In de Waag, located in a 15th century former weigh house in the centre of Amsterdam's Nieuwmarkt, used its location as the medieval gateway to the city as a bike-thru for customers picking up meals to go. 'It was a great PR stunt, and people love to cycle through,' says In de Waag co-owner Priscilla den Ouden, who will stop the popular service when she reopens in June. She is now turning her attention to innovative ways her regulars can once again enjoy reading newspapers at the restaurant's long tables. 'Maybe it will be with an iPad you can clean,' she says of management's ongoing deliberations. 'We are also discussing with local newspapers about possibly having a code where people can read the papers on their phones without having to buy a subscription.' What is certain, though, is that In de Waag, blessed with a huge terrace, will be part of the Nieuwmarkt's efforts to open up the square to the area's other eateries that lack outdoor seating space of their own.