Some would claim British Airways was slow off the mark. Unlike rivals including Lufthansa, BA has been tardy in converting grounded aircraft to full passenger-cargo operation.
However at least one B777-200 has now been converted to true passenger-cargo operation at Cardiff with all seats removed to increase space.
The inside of one of our 777-200s, G-YMMK, having just returned from Cardiff maintenance in a cargo config to support our ongoing freight-only operations for PPE etc. Keeps aircraft utilisation up whilst pax loads are non-existent. #AvGeek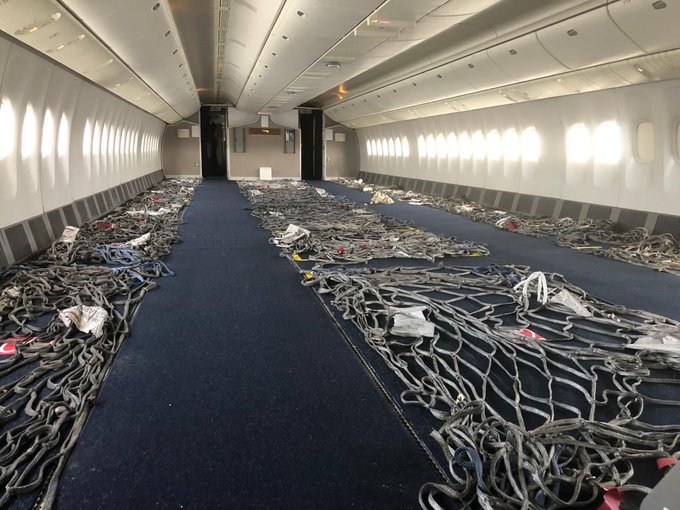 Meanwhile BA continues to operate some aircraft taking PPE equipment from China to UK with cargo strapped to the seats.
The carrier is operating 14 flights a week between Shanghai and London, with a daily service out of Beijing. That's a 50 per cent increase over recent weeks.
Other examples of passenger-cargo services include:
Delta, in common with other US carriers, awaits FAA (Federal Aviation Administration) approval to carry cargo on the passenger deck. Meanwhile it's found a temporary solution by stowing a limited amount in the overhead lockers.
Swiss has developed into a major player. Its cargo network continues to expand (including thrice daily to Beijing, twice daily Shanghai) and the map suggests Zurich is used as a transit point.