Hatta International Airport in Tangerang, Banten, Indonesia's main airport, was reportedly packed with passengers on Thursday morning despite the government's call for physical-distancing protocols in public.
Social media users posted pictures of the scene at the airport's Terminal 2 with passengers lining up from early in the morning.
"The atmosphere at Terminal 2 of Soekarno Hatta Airport on Thursday morning," @jktinfo said on its Instagram account on Thursday, referencing a photograph taken by Instagram user @fahlevi.rezaaa.
Other social media users also criticized the government, airport management and the congregating passengers for failing to enforce or follow social-distancing measures to prevent COVID-19 transmission.
"The combination of the indiscretion of the Indonesian government and its opportunist and reckless citizens will make this country the last to survive this pandemic," Twitter user @adriansyahyasin posted on Thursday.

Kombinasi ketidakbijaksanaan pemerintah Indonesia dan rakyatnya yang oportunis dan gegabah akan membuat negeri ini yang terakhir selamat dari pandemi ini.

Berdamai dengan virus katanya, udah McD sekarang ini Bandara CGK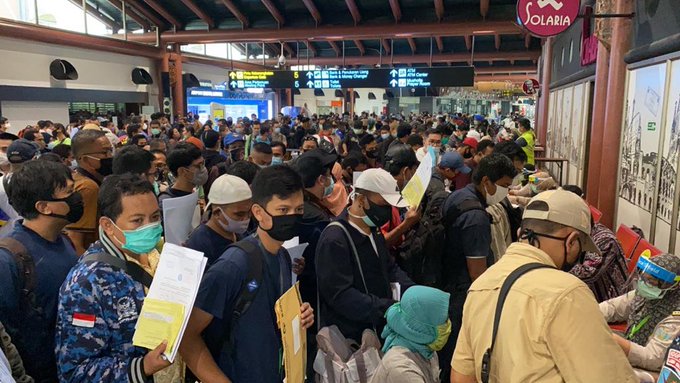 "Quite a struggle using flight services in the COVID-19 period. Lining up for more than three hours [where] procedures to keep a distance were not enforced. Can AP [airport operator PT Angkasa Pura II] review […] whether social distancing applies at the airport," Twitter user @HrytoRicky also posted on Thursday.
Siapa sih yg tidak rindu kampung halaman? Apalagi jika rindu tsb sudah kian menggunung pada orangtua yg begitu kita cintai. Namun jgn sampai rindu membawa petaka. Rasa syg utk melindungi mereka dr COVID-19 hrs jauh lbh bsr. Nah #AP2friends kt harus slg melindungi agr tetap sehat!
Responding to the reports, Angkasa Pura II communications manager Febri Toga Simatupang said that the crowding of passengers occurred at 4 a.m., that it only lasted until 5 a.m. and was caused by an influx of passengers coming for morning flights where 13 departures were scheduled between 6 a.m. and 8 a.m.
The passengers were lining up to get all their flight documents checked as additional requirements, such as a negative COVID-19 polymerase chain reaction (PCR) test or rapid test result, or health documents from a hospital or clinic, as well as a return ticket, are required to fly during the currently indefinite COVID-19 mitigation period.
Febri went on to say that the airport officials were overwhelmed by the large number of passengers seeking to get their flight documents checked.
"As of now, there are no more lines at Terminal 2. We always try to maintain physical distancing in every area. The application of physical distancing in Soekarno-Hatta will also be evaluated periodically to see the current situation and conditions, which are quite dynamic," Febri said in a written statement published on Thursday, adding that flight schedules would also be evaluated.
To prevent people from going on the Idul Fitri mudik (exodus) and to curb COVID-19 transmission, the Transportation Ministry decided to suspend intercity flights for passengers from April 24 to June 1.
However, the national COVID-19 task force relaxed the restriction on May 6, allowing state officials, private-sector and state-owned enterprises (SOEs) employees who provide essential services, repatriated Indonesian nationals, individuals who need emergency medical care and family members of a deceased person to travel between cities.
The Transportation Ministry has also limited the passenger capacity of flights, down to 50 percent of the normal flight capacity to help physical distancing and reduce COVID-19 transmission risks.
Air Transportation Director General Novie Riyanto reminded travelers that "strict sanctions" would apply to airlines violating the passenger limits as the directorate general had received complaints about violations.
"This morning, we immediately followed up [the complaints] by ordering flight inspectors to carry out further investigations into this matter," Novie said in a written statement on Thursday. "We remind airlines not to make mistakes that put their passengers at risk. The health protocols must be implemented by all aviation stakeholders." (mfp)