01
Spice Village, Thekkady
Stretched across a misty hilly ridge, Spice Village is only a short distance away from the Periyar Tiger Reserve. There are over 140 varieties of trees spread across its 14 acres, along with a spice garden and organic vegetable farm. All the food cooked in its kitchen is sourced within a 50 mile radius, Guests can go on nature walks and night treks, take a day trip to the neighbouring pepper plantation, learn traditional recipes, go bird watching or fishing. The entire estate is chemical-free—natural oils, plants and camphor are used pesticides and insecticides. Everyday, waste is segregated and recycled in the in-house vermicompost plant to make organic manure for the vegetable and herbal gardens.
02
Khem Villas, Ranthambore
Situated on the edge of the Ranthambore National Park, this tiger camp is surrounded by 12 acres of forests dotted with lakes, open grasslands and trees. Guests can take jungle expeditions and nature walks to spot the jackals, jungle cats, hyenas, desert foxes, crocodiles and various birds found in the area. The luxurious cottages, tents and rooms are environmentally-sensitive and has been made with locally sourced materials. Owner Goverdhan Singh Rathore, son of tiger conservationist Fateh Singh Rathore, spent over two decades planting indigenous trees and building small lakes in the area. He also runs NGOs working for tiger conservation and the local community, which work in tandem with Khem Villas.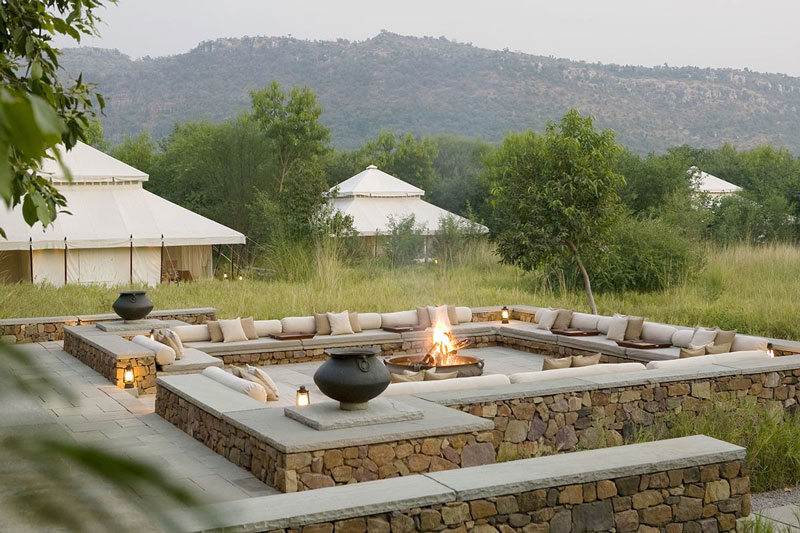 03
Elephant Valley, Kodaikanal
This 100 acre nature reserve and organic farm has a stunning location on an old pachyderm migration route in the Pani Hills of Tamil Nadu. Even though Kodaikanal is just 20 km away, you'll want to stay put in this paradisaical resort. Its 20 eco-friendly bungalows are built with local materials such as granite, reclaimed doors and wood, and equipped with solar lights, low consumption bulbs, cast iron wood stoves and firewood fuelled hot water showers. Each has its own private garden, overlooking the Gangavaar River and the pesticide-free coffee plantation. Guests are offered fresh food made with produce from the organic garden and steaming cups of local filter coffee. Don't forget to take a nature walk to see the local wildlife, birds and plant life.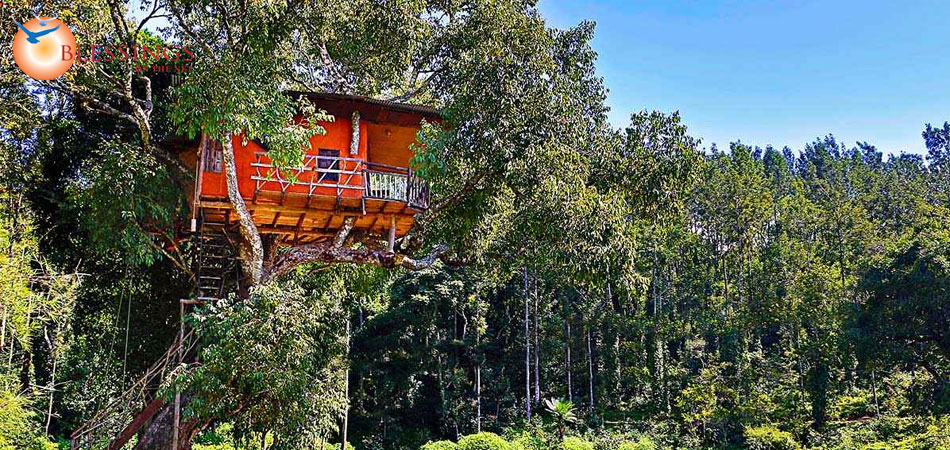 04
Barefoot at Havelock, the Andamans
Located on what is called the best beach in Asia and surrounded by paddy fields, banana plantations and Mahua forests, Barefoot at Havelock is painted in swathes of blue and green. Entirely fertilzer and chemical-free, the seven-acre resort has 25 airconditioned and fan-cooled thatch tents, villas and cottages built with indigenous materials. There's more to Barefoot than being a beach bum though—it is the only PADI 5 star Instructor Development Resort in the Andmans Islands and offers diving courses, along with snorkelling, fishing and Ayurveda. It's home to colourful butterflies and numerous birds, as well as a rare swimming elephant. The resort runs an Environmental Education Centre that educates visitors and residents on the fragile and rich biodiversity of the Andamans. Guests can also enrol for a beach clean-up program every morning at Radhanagar Beach, in return for a certificate and a free Tshirt. The resort encourages tourists to drink R.O. water instead of mineral water, to minimise the use of plastic water bottles.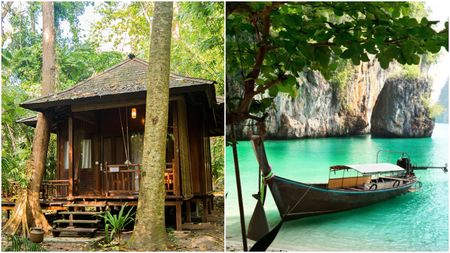 05
Dune Eco Village & Spa, Pondicherry
Spread across 35 acres on a beach near Pondicherry, the Dune Eco Village & Spa is an oasis of calm and well-being. All its 55 bungalows use solar water systems, low consumption bulbs and organic linen. Many have been built from local colonial houses, planters' mansions and Chettinad palaces, and several forego air-conditioning for refreshing sea breeze. The Dune also has a seven acre organic farm—equipped with its own composting yard—which supplies fresh produce for the in-house Fun restaurant.
06
SwaSwara, Gokarna
Situated along Gokarna's beautiful Om Beach, SwaSwara focuses on wellness. Guests can try morning yoga on the beaches, meditation, Ayurvedic massages and treatments, pottery classes or Warli painting at the art studio, and learn cooking from the chef. The resort practices vermicomposting, rainwater harvesting, along with recycling waste water in the garden, and turning kitchen and solid waste into biogas for cooking and organic fertilisers. In addition, one-third of the staff is hired locally, with community programmes for neighbouring schools and self-help groups.
07
Kalmatia Sangam, Almora
Perched on a hilltop, the Kalmatia Sangam resort sprawls on a 14-acre-estate in the Kumaon region of Uttarakhand. Home to a diverse range of flora and fauna and indigenous and migratory birds, each of its ten stone cottages offers spectacular views of the Himalayas. It also uses rain harvesting to meet its water requirements throughout the year and tackle the acute water scarcity in the hills. Biodegradable and non-biodegradable garbage are separated, and organic waste is composted. It also organises Kumaon village treks led by English-speaking guides from the surrounding villages.
08
Shakti 360 Leti, Bageshwar
Perched on a ridge at a height of 8000 feet in the Bageshwar district of Uttarakhand, this boutique stay is a stairway to heaven. Each of the four cottages has been built in accordance with local building techniques of dry-stack stone wall construction. The stunning landscape surrounding the hotel is best experienced with the Shakti Kumaon village walks, which involve trekking, camping and home stays in the surrounding hills. It uses solar energy as its main source of electricity and also uses grey water reuse systems to reduce water consumption in a water-scarce area. It promotes local culture through regular performances and has a dedicate village development fund. Most of the staff is hired locally and food, materials and general supplies are also sourced from the surrounding area.
09
Coconut Lagoon, Kumarakom
Criss-crossed by canals, the 30-acre Coconut Lagoon has a picture-perfect setting in Kumarakom's backwaters. Its villas are furnished with furniture sourced from traditional homes and local craftsmen, with some of the buildings having been transplanted from heritage mansions across Kerala. These are interspersed with beautiful green spaces such as a butterfly garden and a traditional forested area known as the "Sacred Grove". Over eight acres are used for rice cultivation, especially of the medicinal "njwara" variety. Besides being home to countless water birds such as the Darter, it also helps in the conservation of the world's smallest cow, the Vechoor. Other local community initiatives include a weekly cleaning initiative to clear the garbage of the neighbouring village. The resort also has a composting plant to convert waste to manure, and offers rides on its solar-powered boat. Guests can try their hand at canoeing on the canals, coconut husking, or watching a Kalari wrestling match in the morning.
10
Nameri Eco Camp, Nameri National Park
A bird watcher's paradise, the Nameri Eco Camp takes its from the adjacent National Park which is home to tigers, leopards, and rare bird species such as the white winged wood duck. Set up by a group of anglers, the camp comprises of bamboo-and-thatch tents and cottages and a restaurant serving organic fare from the garden. It offers bird-watching, angling, jungle treks, elephant safaris, river rafting on the Jia-Bhoroli River.