Goddess Lakshmi is believed to manifest in her full material glory, it has to be the Mahalakshmi Temple in Ratlam. Every Deepawali, this shrine of Mahalakshmi turns into a pool of wealth, all due to the abundant faith the devotees have in the glory of the goddess here.
As per the news reports, the Mahalakshmi Temple in Ratlam city of Madhya Pradesh has been decked up with Indian currency notes worth INR 100 crore. The devotees from Ratlam and other faraway destinations have offered plenty of INR 500 currency notes to the presiding goddess this year on Dhanteras. One can see uncountable notes here, placed in the front and around Goddess' idol.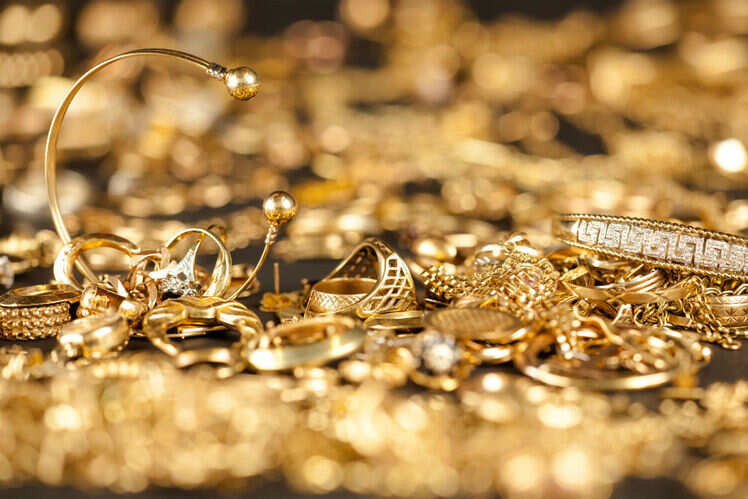 Credit: Getty Images
It is a general belief that offering one's accumulated wealth in the temple from Dhanteras to Deepawali is a special way of pleasing Goddess Mahalakshmi. It is due to this long-practiced tradition that several people visit the shrine to offer their money and jewellery.
Every precious object offered to Malalakshami Devi is safely guarded by the temple authorities, and an entry is made in a well-kept register for every offering made at the shrine.
Mahalakshmi is seen with this treasure from Dhanteras to Deepawali. Devotees from different parts of the country come here to see this view.
Many devotees visit this shrine from Dhanteras to Deepawali just to witness the awe-inspiring glory and material wealth offered to the goddess at this temple. The darshan for the deity start as early as 4 AM with hundreds of devotees queuing up to behold Mahalakshami Devi.