The Westin Dhaka presents Thai Food Festival – Sizzling Thai from 22 July till 2 August, 2019. The food festival will take place at Seasonal Tastes – the Pan Asian-Western buffet restaurant of The Westin Dhaka. The main objective of Sizzling Thai is to promote the exotic cuisine of Thailand and bring it to the plates of the food lovers in Dhaka.
At the festival, the flavorful cuisine of Thailand will be presented by Guest Chef K Nikorn of Sheraton Hua Hin Pranburi Villas and by Master Chef Burc Tuncel and his culinary team from The Westin Dhaka. For 12 nights, guests can come and enjoy Tom Kha Gai, Massaman curry, Pad Gra Prow and many other tantalizing dishes. Favorites such as Tom Yum Goong, Yam Nua, Tod Mun Pla and Poh Pia Tod will also be available for all to enjoy throughout the event. From starters to desserts, various Thai delicacies will adorn every section of the exclusive buffet spread during the festival.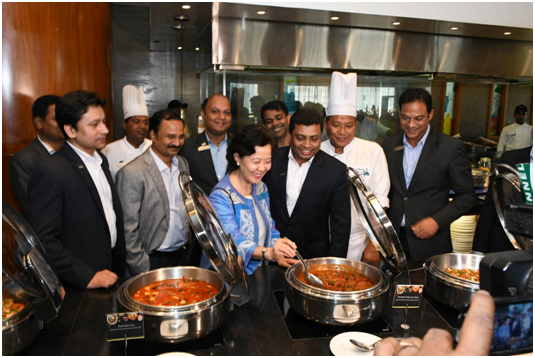 The food festival is a dinner only event and the buffet dinner is priced at BDT 5500 Net per person. Throughout the festival, attractive B1G1 (Buy One Get One) offers will be available on selected cards of NCC Bank, Standard Chartered Bank, BRAC Bank, Eastern Bank Ltd., Prime Bank, UCBL, Dhaka Bank, Midland Bank, Bank Asia, City Bank American Express, Mutual Trust Bank and South East Bank for the valued guests. Robi Platinum Ace & Platinum base subscribers can also avail the B1G1 offer. Also, a very special B1G3 (Buy One Get Three) offer will be available on 2 August on selected cards of DBBL. To attend the dinner, guests will have to make reservations by calling Seasonal Tastes at +8801730374871.
7 Up (Transcom Beverages Ltd) is the Beverage Partner and ABC Radio is the Radio Partner of Sizzling Thai.
The launching ceremony for the festival was held on 21 July at Silver Room of The Westin Dhaka. H.E. Arunrung Phothong Humphreys (Ambassador of Royal Thai Embassy, Dhaka) inaugurated the event along with Shakawath Hossain (Resident Manager and acting General Manager, The Westin Dhaka), and Guest Chef K Nikorn (Sheraton Hua Hin Pranburi Villas). Representatives of Transcom Beverages Ltd., ABC Radio, The Westin Dhaka and media houses were also present during the ceremony. The launching inauguration was followed by a Thai food tasting session which was masterfully presented by Guest Chef K Nikorn and Chefs of The Westin Dhaka.