Darjeeling, a gem of a place which is known for its charm. The dazzling snow peaks of Kanchenjung overlooking the hill town. The beautiful tea gardens on the slopes of rolling hills. Darjeeling from my childhood have always attracted me. Later it came out to be a necessity for me to be there. A group of friends have the same attraction to Darjeeling. And Later Together we went there for exploring the majestic beauty of Darjeeling. Just for general information, Darjeeling hill town is located at an altitude of 6,710 ft in West Bengal. The nearest airport is Bagdogra (IXB) and the nearest major railway junction is New Jalpaiguri (NJP). It takes about 3 hours to reach Darjeeling from NJP by car. It was the eid day when we reached Siliguri.It was about 2 P.M. and Weather was too hot. From Siliguri we hired a jeep to reach our destination. We reached Darjeeling via mirik.
Mirik is a quiet town between Siliguri and Darjeeling noted for its secluded charm, Beautiful Tea Gardens, Samendu Lake, Orange Orchards, Cardamom Plantation and its pleasant Climate. En route, visit to Pashupati Market for shopping. it was already 7 pm and border was closed; we hadn't made any chance to enter to the Pashupati market which is situated in Nepal border.
Reached Darjeeling at 7.30 PM. Driver dropped us near mall area, and we checked in hotel beside local mosque. And got ready for the night trip near mall area.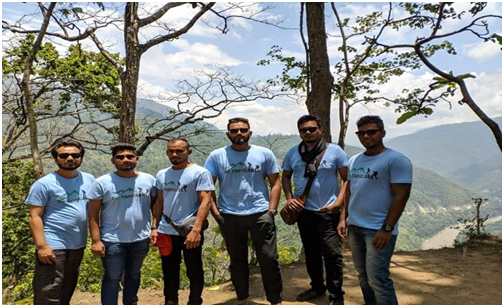 There is heavy downpour last night, sky is bit clear now in this morning. Our jeep arrived at our hotel at 9 am. And we start our first day sightseeing. At first our destination was HMI. HMI is known in full as Padmaja Naidu Himalayan Zoological Park, it shares the premises of HMI. It is the largest high altitude zoo in India and the main attraction includes a white snow leopard and the famous red panda. Unfortunately it was Thursday and HMI & Zoo closed that day so we could not enter.
Driver took us to ropeway. Since there was a long queue, so we skipped ropeway ride. It took about two hour for this ride as there a long queue for tourist. Also whole area was covered with thick clouds. That's the reason we didn't find it worthwhile to spend hours here only for this ride.
Tenzing rock was 10 minute ride from ropeway side. i found it very mechanistic way to climb rock. I feel this is just a trial for getting a feel of rock climbing. Local climber group has training that day and we haven't got any chance to climb rock. And move to the next spot.
Our next spot is Happy Valley Tea State. It was one of the best sightseeing experiences in Darjeeling. When we reached the tea garden, thick cloud removed its veil from the valley. We could see lush green tea plants nodding there leaves with gentle bridge and drizzle. We climbed down the pathway that taking us through the tea garden. Fleeting clouds returned back to the hill top as if it had given us enough time to enjoy beautiful tea valley with a fresh cup of Darjeeling tea. It was really a wonderful moment for all of us.
Our next destination was Rock garden, located 10km away from Darjeeling. It is also known as 'Barbotey rock garden' which is surrounded by beautiful hill stream along with the slope covered with fascinating flower gardens and sitting arrangements at various level. we all are enjoyed very much to the see the delightful sight of rock garden where one has to go through a scenic journey filled with rocky hills and greenery shared by sharp hairpins and extremely steep roads before one reaches the phenomenal sight of rock garden which is positioned between the clouds with the soothing sound of Chunnu summer fall.
Heading to Batasia loop, another tourist attraction in Darjeeling. Batasia loop goes around a garden and garden is beautified with fresh green grass, seasonal and perennial flowers and shrubs. There are seating areas where we were seeing the train chugging down the slop. There is also war memorial built from the memories of gorkha soldiers. In clear sky spectacular view of Mt.
Kanchenjunga can be seen from batasia loop very clearly.
Our last spot was Ghoom Monestry. It is famous for its beautiful Thangka on the walls, fancy bells and drums. Also it has a 15 feet high Maitreya Buddha statue that captivates the surroundings with its area. we were very tired and not spent too much time there. And it was also 6.30 PM and we were heading to our hotel. Next day we have to wake up early in the morning as our destination was Tiger hill and kalimpong
Early in the morning, at around 3:00 am (yep! as early as 3:AM or else you will miss the sunrise view from Darjeeling), travel to the Tiger Hill for the magnificent sunrise view.but unfortunately we were not able to see the mighty Kanchenjunga from tiger hill cause of thick cloud everywhere. We were not spent too much time there as we have to visit Kalimpong as well.
3 days in Darjeeling was amazing a town in lesser Himalayas, Darjeeling stands proud as its gateway. To a backpacker's delight, nature lover, mountaineer's wish– Darjeeling has something to offer for everyone. Powerfully attracting visitors with its green tea fields on one side against the white majestic snow-capped peaks on the other, Darjeeling's panoramas are just breath taking. We will remember the journey for the life.